Suits for Soldiers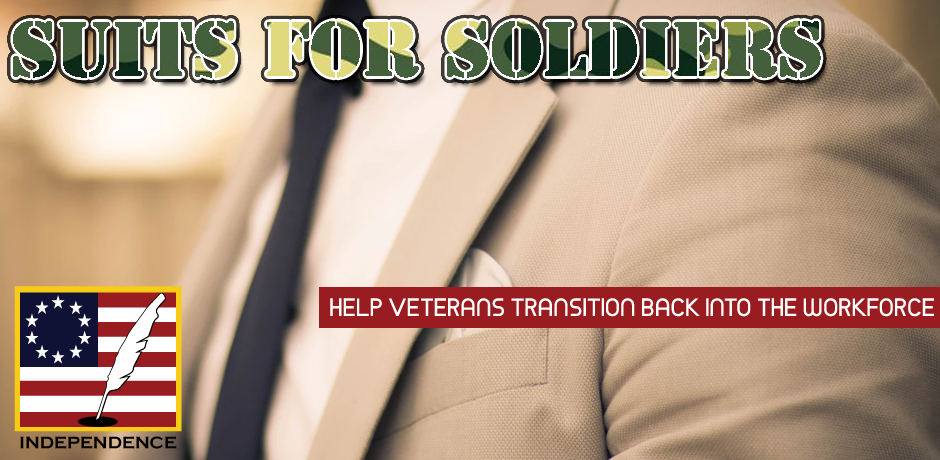 Independence Golf Club is proud  to recognize those that have served our country by offering complementary rounds of golf to Veterans on Veteran's Day at Independence Golf Club.   You can help if your not playing golf by donatating gently used men's and women's suits to help our Veterans transition back into the workforce. Come out to support and help honor our military men and women.
Veterans, please call Independence Pro Shop to signup in advance at 804-601-8612.  Space is limited.
Sunday, November 10th 
Dinner and Program featuring Navy Seal and bestselling author – Lt. Jason Redman
Independence Golf Club is thrilled as part of our Veteran's Day Suit for Solders charity event with Summit Media to have New York Times bestselling author and retired Navy SEAL, Lieutenant Jason Redman. Jason electrifies audiences with his high energy presentations on leadership, failure, redemption, catastrophic injury and his breathtaking journey to overcome all.  Lt. Jason Redman spent 10 years as an enlisted Navy SEAL and ten years as a SEAL Officer leading SEAL teams in combat operations in Iraq and Afghanistan.
6:30 pm Lt Jason Redman meet and greet
7:00 pm dinner and Lt Jason Redman guest speaker program
** Tickets available through Eventbrite / cost is $100 per person and proceeds will go to benefit Get Headstrong and Concussion Legacy Foundation
Monday, November 11th
11AM LUNCH/ sign in
12PM Veteran Golfers SHOTGUN
5PM POSTROUND Dinner provided by PFG
*** Boots to Suits will be onsite collecting donations 11a – 5p on Monday, November 11th 2019
Needed for MEN: DRY CLEANED gently worn, current styled suits, blazers, sport coats and companion slacks, new dress shirts or gently used shirts (with no ring around the collar) and ties, no shoes or casuals
Needed for WOMEN: DRY CLEANED pant suits, suiting, dresses, blouses and tops, skirts all which should be interview appropriate, no shoes or casuals
Visit BootsToSuits.org for more information about this exceptional program.
The complementary golf rounds is open to Veteran and Active Military.
To register, contact Independence at 804.601.8612 or visit independencegolfclub.com for more information.