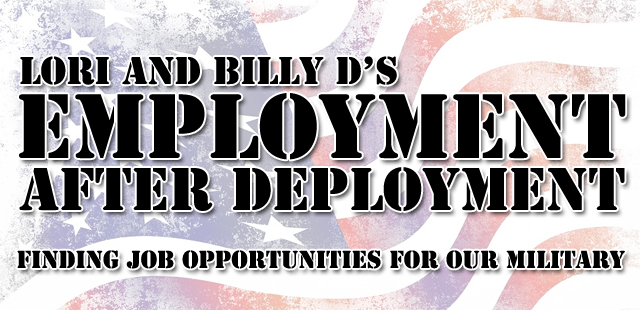 Men and women leaving the military bring an abundance of talent, a variety of skills, a desire to succeed and vast potential to a potential employer. Lori and Billy D need your help to connect our veterans looking for work with employers that can benefit from their talent.
Whether you or someone you know is a veteran looking for work, please submit that information below so that we can highlight them here for potential employers. If you are an employer looking for a talented veteran to add to your staff, please let us know below.
We owe so much to our military, please help to make sure they are still taken care of after their service.
sponsored by
LOOKING FOR WORK:
If you are an employer interested in the candidates below, please use the form at the bottom of the page.
Codi W., Marines
"He is an all around master of skills. While he was infantry in the military he picked up on so many other skills such as automotive technician, welding, constructing, leadership, and technical skills. He can fix anything with just what he's got around him. He's beyond universal and such a handy man around our home. He specifically wanted to be a police officer for a long time but has a huge interest in progressing his knowledge in welding as it is his favorite activity!"
Dylan E., Marines
"Throughout my time of service in the United States Marine Corps. I have acquired many skills and traits that would make me a key attribute in any job or career. I have developed leadership traits, communication skills, critical thinking, ability to take initiative, and am proactive. I can work in a team or by myself. I'm dependable, determined, adaptable, efficient, and hard working."
Christopher S., Navy
"Chris was an aviation electrician in the US Navy but decided to take a career turn after serving 8 years in the military. He currently holds a Bachelors degree in Healthcare Administration and in 8 weeks will complete his Masters degree in Healthcare Administration. In the 3 or 4 years it has been since leaving the military, he has been unable to find work. He is a strong leader and is very knowledgeable in the healthcare field. He would be an asset to any healthcare company/facility that will give him the chance he deserves."
Steve P., Army
"Hello, I am a disabled veteran with 13 years of service. Injuries in Afghanistan forced me to be medically discharged. I was in the Military Police Corp. I spent the first 7 years playing basketball for the Army. I am currently in the process of moving to Richmond VA. I spent 18 years in the west end of Henrico and graduated from Freeman HS. My skill set would be focused around military, law enforcement, basketball and baseball. Thank you for your time."
Michael M., Army
"Program & operations coordinator."
Terry H., Army
"Served in the Army for 12 years as a watercraft operator. Currently working as a Harley Davidson mechanic."
Aaron M., Marines
"Avonics technician- worked fixing helicopters. Worked with wires and electronic components."
Philip J., Army
"I am a Combat Engineer Officer. I was part of many staffs from: an Engineer Battalion; US Army Headquarters; and Theater Engineer Command (TEC). I had worked as a Plans Officer; Operations Officer; Liaison Officer; and an Executive Officer during my Active Duty and time as a Reservist. I have served as a Contracting Officer's Representative (COR) and I provided quality management of construction projects in the Pacific Theater. I was deployed twice to Iraq, supported operations there and construction/reconstruction projects. I also mentored, provided guidance to Soldiers and lead Soldiers during my Commissioned Service. If more details are needed please let me know and I will send resume, thank you."
Kurt M., Army
"Over my 20 years in the Army, I've become adept at maintenance and troubleshooting on many types of diesel-based equipment. This experience has landed me roles as an instructor in Higher Military Learning, as well as a position performing Validation and Verifications of manuals and procedures. My other experiences include, but are not limited to finish carpentry and cabinet-building, basic fiberglassing and work with composites, automotive electronics installation and repair, and archery equipment tuning and repair. I've never been one to shy from a challenge or learning opportunity. As such, I don't find myself leaning towards any one specific field of employment. I consider myself well-rounded, and always strive to be as resourceful as possible. I place constant emphasis on safety and the welfare of my co-workers. If you find yourself interested in adding me to your team of employees, and wish to know more about my past and qualifications, I'm more than happy to send a Resume. Thanks for your Consideration!"
Erick S., Army
"I was an officer in the logistics branch of the army. I have served in many different management roles and am comfortable leading multiple projects at once. I have deployed to Iraq three times and have learned to quickly learn new roles and responsibilities. Thank you for your time."
S. Hummel. Air Force
"I am a 21 year Air Force veteran who's served in Afghanistan and Iraq. I've served in management positions with superb supervisory skills which compliment written and verbal intellect. Well versed in Microsoft Office and all of its components."
E. Frazier. Army
"Military Police – Injuries resulted in medical discharge. Experience as a civilian criminal, lemon law and bankruptcy paralegal. Looking for any legal, administrative and/or office management position."
B. Bihr, Marines
"I am a highly motivated and personable IT professionalism with demonstrated ability for critical thinking, problem solving, leadership and the ability to work independently as well as part of high performing teams. During my four years service in the United States Marine Corps I received multiple promotions, commendations, twice awarded Marine of the Quarter for outstanding performance of my duties and support of my units demonstrating effectiveness in even the most arduous of conditions and situations and earning an Honorable Discharge. Currently working with General Electric (GE) through Maxx Potential in performing with Data Loss Prevention utilizing Digital Guarding to move GE employees in and out of access groups. Building websites using the likes of WordPress and HTML along with the implementation of Cascade Styling Sheets (CSS). Building of web servers using the utilities of Amazon Web Servers (AWS). Utilizing the skills in HTML and CSS in support work to enhance the visual aspects of customers websites and adding pages to their websites."
LOOKING TO HIRE:
"I am looking to hire someone with an Electronics background. I currently have one opening in Ashland Virginia please consider me as an employer."
Jason Dowdy  |  804-512-2405
Quality Building Products (construction)
Keith Smith  |  804-213-3636
CriticalShip
"I am looking for Drivers with experience driving tractor trailers."
Apple Door Systems  |  804-674-7774
"Apple Door Systems is hiring helpers to install and service garage doors, entry doors, industrial doors and many other products! We offer competitive pay and great benefits.Submit your resume online at appledoor.com or fill out an applicationon at one of our two locations 2700 Pocoshock Blvd., 23235 on the Southside or 2200 John Rolfe Parkway, 23233 in the West End. (804) 674-7774."
Forrest Puffenbarger  |  804-339-3170
Southern Timber Products
"Looking for equipment operators and or maintenance personnel."
Billy Droste  |  804-630-1000
First Choice Seamless Gutters
"Anyone who is interested. Once trained, a seamless gutter installer makes between $40,000 and $60,000 per year. Must have valid drivers license. "
Ashley Sabo  |  757-447-6890
Room Escape USA
"All candidates interested in working for an Escape Room business, run by veterans."
Matt McEwen  |  804-358-2595
Forest Ambulance Service
"We are currently looking for experienced medical professionals with EMT-B or higher level training to work as field providers as well as operators and dispatchers. Please submit applications in person at 3101 northside ave Richmond, VA 23228 or on line at forestambulance.com."